B&H Design Uniforms for all Local School, Sports and Clubs Uniforms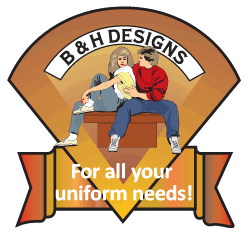 T-Shirts for work uniforms, sports, schools and clubs
Lined jackets and tracksuits available for the sportsperson
Screenprinting and embroidery
Uniforms and embroidery are completed on the premises

LOCALLY OWNED!
LOCALLY MADE!
Screenprinting by local screenprinters.
Open to the public. Easy parking!
* No job is too large or too small.
We manufacture:
School/Sports/Work Uniforms
Sportswear
T-Shirts
Shorts
Dresses
Tracksuits
Jackets
Skirts
Sweatshirts
Made-to-order Clothing
Services we offer:
Embroidery
Screen Printing (by local screenprinters)
We embroider hats, shirts, jackets, etc. on the premises. NOTE: We take extra care to make sure there is no bunching.
We also supply garments from these companies:
Aussie Pacific
Bocini
Biz Collection
JB'S Wear
Grace Collection
Can't Tear 'Em
Hard Yakka
King Gee
DNC
---
About B&H Design Uniforms
B&H Designs, a local clothing manufacturer with over 40 years experience in the industry, makes and supplies all types of uniforms; school, sports and work uniforms, shirts, shorts, dresses, tracksuits, jackets, skirts etc. and specialises in made-to-order clothing. B&H Designs supplies uniforms for the local community and also wider Queensland.
B&H Designs has a reputation for quality and speedy service and has received numerous awards from different sporting bodies for the uniforms they have manufactured and supplied. All uniforms and embroidery are completed on the premises. Uniforms are made using only sun safe fabrics from Australian mills. Screen printing is done locally by Sunshine Screen Prints.
---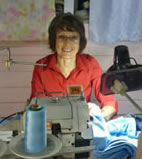 Come and see Bev about your uniform needs! She does all the cutting and will alter uniforms to fit the person. Bev is actively involved in volunteering with local community groups.
B&H Designs offers a 10% discount on 'back-to-school' wear.
If you are looking at a new design, or to redesign a uniform, or you have an enquiry regarding uniforms, please contact Bev.
Phone: (07) 4122 1215
E-mail: bhdes@bigpond.net.au
136 Kent Street
Maryborough
(Opposite the Sugar Factory) Monday to Thursday 8:30am-4:30pm
Friday 8:30am-3pm
Saturday By Appointment Only
Closed Sunday